'Magnet' fishing hobby hooks WW2 bomb on canal
A woman using magnets to fish for underwater treasure has ended up pulling an unexploded World War Two shell from a canal.
Marie Kirkman took the corroded mortar home, only realising what she had when she posted pictures on social media. She called the police, who alerted bomb disposal teams in Chester, and her home and surrounding properties were evacuated.
Bomb disposal experts were also forced to close the streets around her home in Bala in Gwynedd.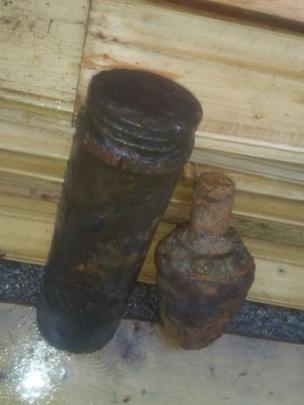 The unexploded shell was fished from the Trevor Basin, next to the Pontcysyllte Aqueduct World Heritage site in Wrexham county. During the war it was home to a nearby munitions factory on the Llangollen Canal.
Marie took up the magnet fishing hobby about three months ago, with the aim of finding items that could be recycled or sold. She said she usually finds old tools, coins, railway components and boat machinery, and had heard of someone who retrieved a safe containing cash. However, after her latest find, she was "a bit nervous" about returning to magnet fishing.
Brimstone UXO
Brimstone remains the only Ministry of Defence assured explosive ordnance clearance and conventional munitions disposal contractor in the UK. Whether you are planning for a project in advance or need emergency response, we have the capacity and capabilities to safely remove UXO risk – on time and in budget.
If you have a site that you would like advice on please contact our team for an informal discussion.
Keep up to date with Brimstone by following us on Facebook, Instagram, Twitter, LinkedIn and YouTube.