'Magnet' fishing hobby hooks WW2 bomb on canal
A woman using magnets to fish for underwater treasure ended up pulling an unexploded World War Two shell from a canal.
Marie Kirkman took the corroded mortar home – and only realised what she had when she posted pictures on social media.
Bomb disposal experts were forced to close the streets around her home in Bala in Gwynedd.
"I just thought it was a rusted-up hipflask," she said.
"I did chip it a little with the hammer and then spotted the shiny, little pin and thought: 'This is something I shouldn't be chipping at'."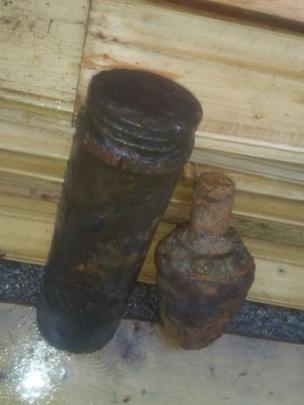 She put some pictures on Facebook – and soon realised that it may not be a hipflask at all.
She called in the police, who alerted bomb disposal teams in Chester, and her home and surrounding properties were evacuated.
The unexploded shell was fished from the Trevor Basin, next to the Pontcysyllte Aqueduct World Heritage site in Wrexham county.
During the war it was also home to a nearby munitions factory on the Llangollen Canal.
"It's a bit scary to think that things like that might be in there," said Ms Kirkman.
She took up the magnet fishing hobby about three months ago, with the aim of finding items that could be recycled or sold.
She usually finds old tools, coins, railway components and boat machinery, and has heard of someone who retrieved a safe containing cash.
But after her latest find, she was "a bit nervous" about coming back to magnet fishing.
However, she said she now knew what to do if she found anything out of the ordinary – and the police would be called straight away.
– BBC